Vancouver council was unanimous Wednesday in removing the requirement for developers to include a minimum number of parking stalls in new developments in the West End and Broadway Plan area.
The move by council doesn't eliminate all stalls from future projects but allows developers to choose how many parking spots are required instead of adhering to an arbitrary number set by city policy.
"I'm really excited to see this moving forward, and I think that this is where the city needs to go," said Coun. Sarah Kirby-Yung in her closing remarks in the council chamber. "An arbitrary minimum did not provide the flexibility for the market to build."
The new policy, which comes into effect in January 2024, follows action taken previously by council in 2018 to eliminate parking stall minimums downtown. Wednesday's vote extends that policy to the West End and Broadway Plan area.
Council heard from staff that the goal is to eventually remove parking minimums across the city, with staff continuing to study what parking stall maximums should be in place for new developments.
The purpose of removing the minimum requirements is based largely on cost to build a stall and the city's ongoing goal to have people rely more on transit, walking and cycling instead of a gas-powered vehicle.
Reducing emissions from having to construct buildings deep into the ground to accommodate underground parkades was also highlighted by staff, with Tim Barton, the city's acting manager of transportation planning, providing a scenario of what could unfold with fewer stalls required.
"If every new building constructed 20 per cent fewer parking spaces than they do today, by 2050 we would expect to see a cumulative 225 kilo tons of carbon dioxide equivalent avoided in parking infrastructure," Barton said.
"That's roughly equivalent to a billion kilometres driven by an average gasoline vehicle."
Barton said work done by consultants found that a stall can cost $60,000 to $80,000. That cost can reach in excess of $120,000 per stall on sites with inefficient parking layouts or challenging ground conditions, he said.
'Waiting in the wings'
Reducing that cost can make projects more viable for developers, he said, providing an example of a proposed 10-storey residential building on a lot at 55 West Hastings St., which is currently in the development permit review stage.
The application is for 32 market rental units.
Barton said the 30-foot-wide lot combined with a narrow lane makes it impossible to include parking in the development.
The developer has instead proposed a transit subsidy for tenants, extra bike parking, a bike maintenance facility and "promotional marketing and information to encourage sustainable transportation choices."
"Surveys within the development community suggest that there are projects waiting in the wings that are undevelopable under the current parking requirements that we could expect to see come in should those minimums be eliminated," Barton said.
The elimination of parking minimums downtown came into effect in 2019.
Preliminary observations based on 10 residential development permits issued under the new bylaw show there's been no change in the number of parking stalls developers plan to build for condos downtown.
"In fact, they're still providing more than the pre-2019 minimum," Barton said.
"The number of stalls planned to be provided for market rental and non-market rental, however, has fallen substantially. This is consistent with other analysis that suggests rental projects are significantly more sensitive to location characteristics such as proximity to transit and amenities relative to strata projects."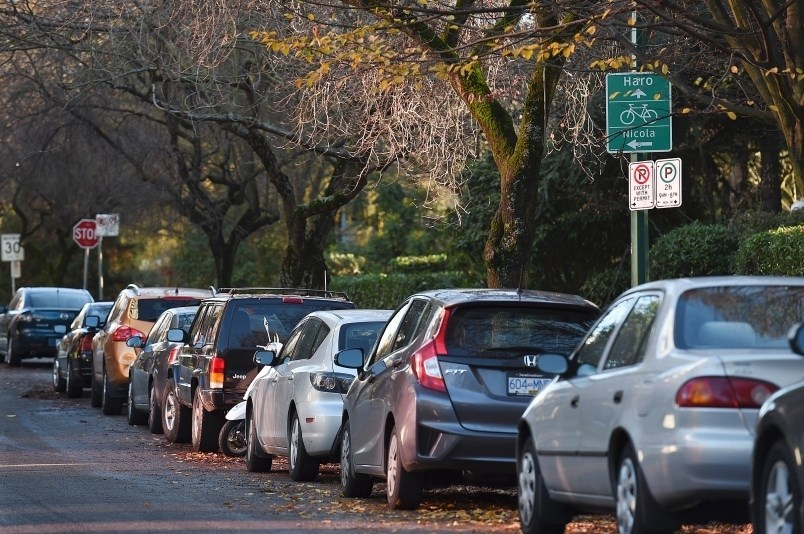 Vancouver city staff say on-street parking in well regulated to manage the demand for parking. Photo Dan Toulgoet
On-street parking spillover
A likely consequence of having fewer parking stalls in developments would mean more people choosing to park on the street — a concern Barton addressed via the experience, so far, in removing minimum parking requirements downtown.
He described downtown as a "dense, walkable community" that has seen significant investments in walking, cycling and transit infrastructure. On-street parking is also well regulated to manage the demand for parking, he said.
The Broadway Plan area, meanwhile, has "ample" off-street parking, he said, noting a study found parkades were just over 60 per cent occupied during the week and dropped to 16 per cent on weekends.
"So, generally, off-street parking is underutilized in the Broadway Plan area," he said. "This is in fact similar to what we saw in the downtown."
The new policy is limited to general purpose parking only. No changes will be made to the number of required accessible parking, visitor parking or bicycle parking spaces.
As part of the policy change, developers in the areas where parking is not required will need to submit what city staff described as a transportation demand management plan with their permit application.
The mandatory plan is one of the city's tools to encourage and prioritize walking, cycling and transit choices over private vehicles. The city's climate emergency action plan calls for two-thirds of all trips in Vancouver to be done by walking, biking or transit by 2030.
'Restrictive parking minimums'
Council's move comes the same month that the provincial government announced it introduced legislation "to remove restrictive parking minimums and allow for parking to be determined by need and demand on a project-by-project basis."
Council heard from staff that the legislation aligns "very nicely" with the moves by the city.
"We're a bit ahead of the game," said Lon LaClaire, the city's general manager of engineering services.
Vancouver is not the first North American city to remove off-street parking minimums.
Edmonton was the first city in Canada to do that in 2020.
Toronto followed in 2021, eliminating minimums across the city and Calgary eliminated minimums for all non-residential development. Within the United States, hundreds of cities have eliminated minimums in some or all of their jurisdictions.