Metro Vancouver gas prices may continue to climb over the next few weeks due to market volatility south of the border, according to an expert.  
Patrick De Haan, head of petroleum analysis at GasBuddy.com, says that local gas prices have seen some fluctuations recently due to "volatility in oil prices recently as it relates to the U.S. debt ceiling discussions."
The U.S. government reached the $31.4 trillion debt limit in January, and Treasury Secretary Janet Yellen has resorted to "extraordinary measures'' since then to keep paying the bills. But Yellen has warned that Treasury will likely run out of money to meet all its obligations as soon as June 1, which is being described as the "X-date."
Gas prices could continue to climb up locally over the next few weeks, particularly if they reach an agreement, De Haan noted. 
"I'm hopeful that summer will be mostly spent under the $2/litre mark in B.C., but there could be some developments such as economic, refinery issues or hurricanes that drive prices up," he said. 
Where to find cheap Vancouver gas in May 2023
At the time of publication, nearly all of the cheapest outlets across the Lower Mainland are selling gas for over 180 cents per litre. According to GasBuddy.com, the cheapest option is a Canco in Aldergrove, which will fill up your tank for 178.9 cents per litre. 

Photo via GasBuddy.com
After the Aldergrove option, the next cheapest place to get gas is at Chevron in the city located at 7309 Knight St. It costs 183.9 cents to fill up your tank at this option. 
A Port Moody Petro-Canada at 3102 St. John's St. has the third-best deal, with gas selling for 186.9 cents per litre.
All of the options after this price point cost 188.9 cents per litre, including outlets in Surrey, Richmond, Coquitlam, and in Vancouver.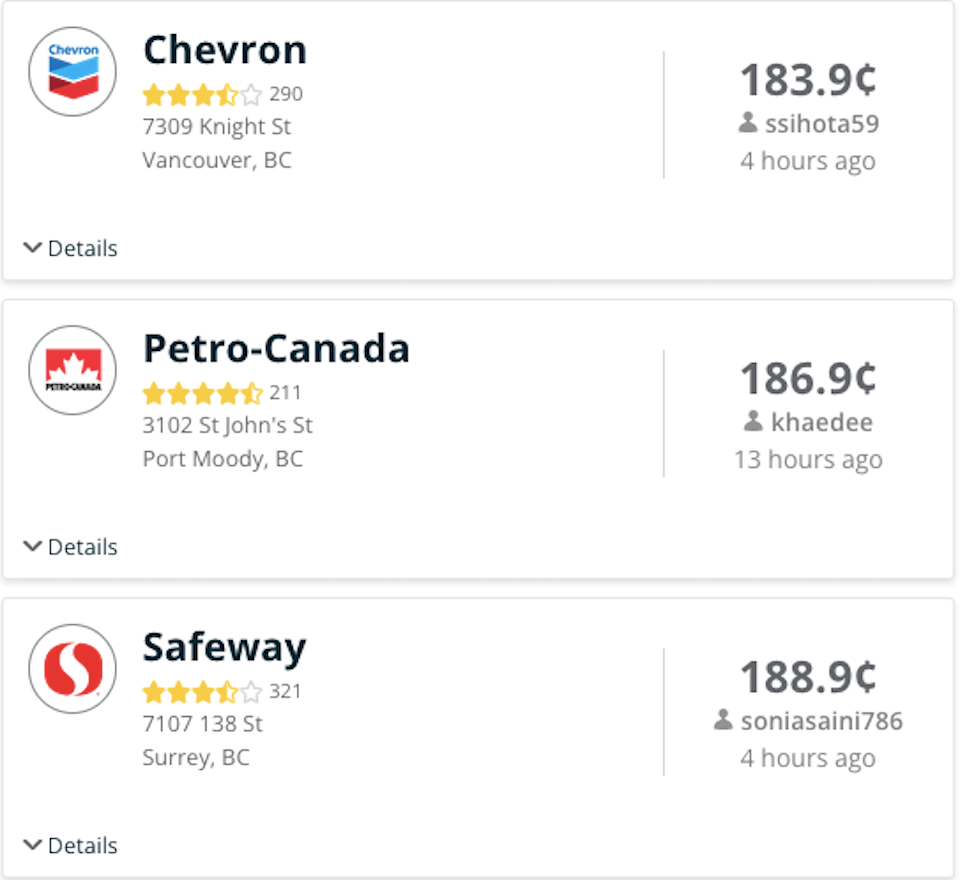 Photo via GasBuddy.com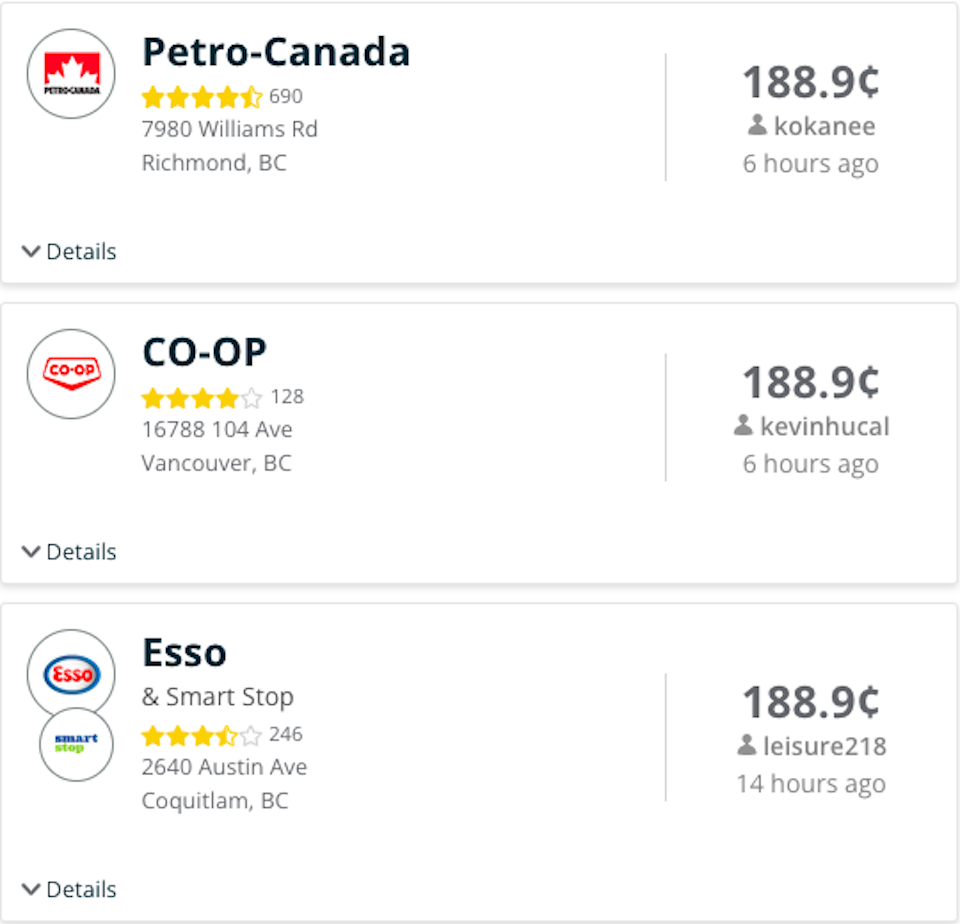 Photo via GasBuddy.com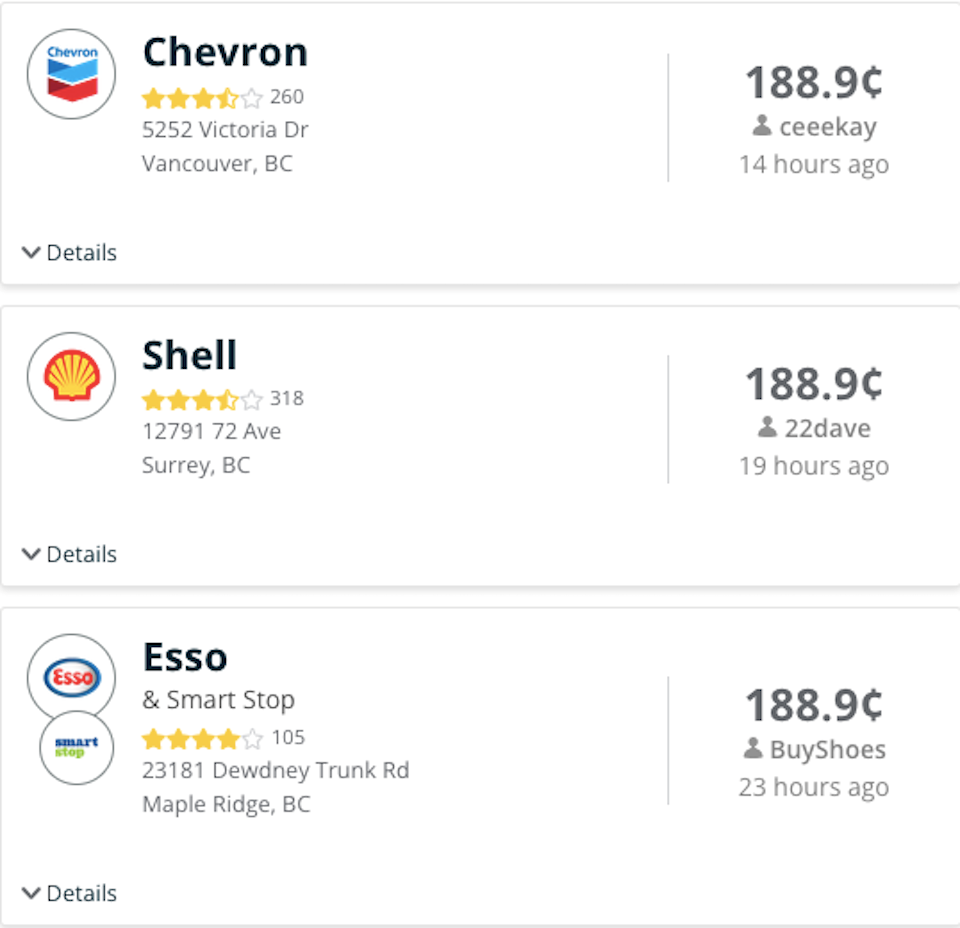 Photo via GasBuddy.com
With files from the Canadian Press