The City of Burnaby says it has outgrown the city hall buildings at Deer Lake, but a proposal to move the facility to Metrotown has some residents opposed.
Staff have recommended Bob Prittie Metrotown Library and Civic Square be redeveloped for a new city hall.
A public engagement study showed it as the top choice out of three potential Metrotown locations, though it didn't include an option to remain at Deer Lake.
Opponents are now concerned their voices haven't been heard.
Deborah Pinchin, who attended an open house regarding the new city hall, said she was angry with the proposal and says others were too.
"Not one 'sticky note' on the 'tell us what you think' board was in favour of this," she wrote the NOW. "Where are all those comments printed? I'd like to see them, as we were told at the open house all comments would be typed out for review."
Open house attendees were encouraged to write their thoughts about the proposed move on sticky notes and stick them on a board.
A photo of a sticky-note board was featured in the city's public consultation report for the project.
Many of the comments on the notes expressed opposition to the project.
"There is nothing wrong with existing site!" reads a blue sticky note.
"Library square is quite nice now as it is. Leave it alone," reads another.
"Rebuild city hall where it is or I will vote for another council!" says a third. Below that message, in thicker felt pen: "Ditto!"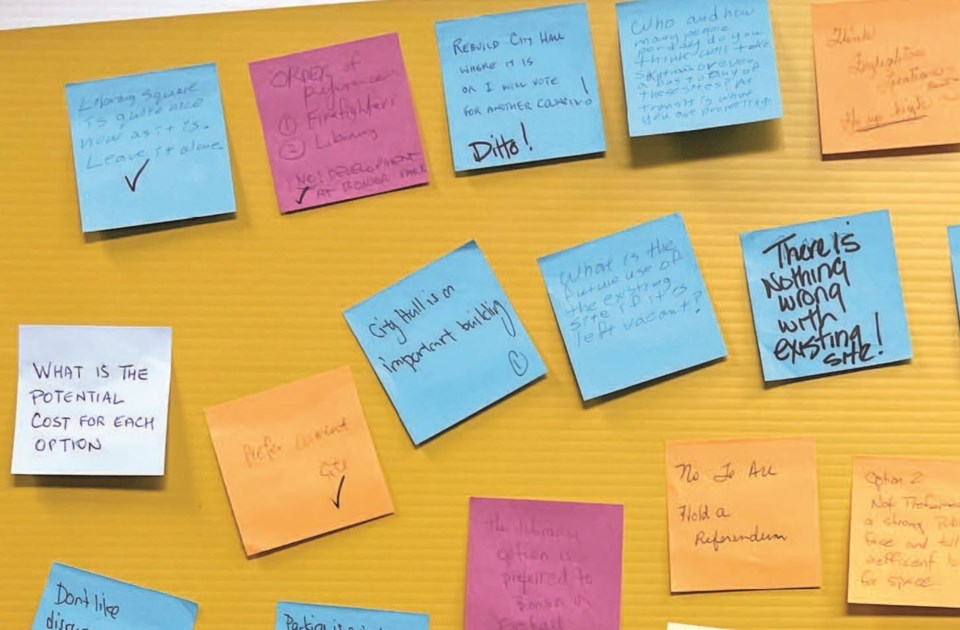 A comment board created at a city-hosted open house features sticky notes with comments on the proposed city hall move to Metrotown. By City of Burnaby
People at the open houses weren't the only ones opposed to the Metrotown location.
"This is the most inane idea I have ever heard," wrote Norma Vachet to the NOW.
"This is not a site central to the bulk of Burnaby residents. We need a location that is more central to all residents. Metrotown is turning into a congested area that I avoid if possible, even though I live not too far from there."
But a staff report going to council Monday, Sept. 11 says rebuilding city hall at its existing location near Deer Lake was considered but not offered as an option due to the cost required to establish a temporary city hall during three years of construction.
The existing facility needs upgrades that would cost an estimated $70 million, and the upgrades would only extend the facility's life by 20 years, according to the report. A new facility would last into the next century, the city's Q+A page states.
How much will it cost to move Burnaby City Hall to Metrotown?
Opponents are also concerned about the potential cost.
Some frequent city hall watchers speculated the total project cost would be $852 million.
When the NOW asked city public affairs manager Chris Bryan whether those reports were accurate and where the $852-million figure came from, he replied, "You have some interesting correspondents with some pretty wild ideas."
"We're still early in the process, and we will begin (to) develop more detailed cost estimates once council has confirmed a location and the programming elements for the new facility."
But former city councillor Colleen Jordan posted on X (formerly known as Twitter) a July report from the city's financial management committee showing a "total project plan estimate" for the city hall replacement project of $852 million.
Coun. Sav Dhaliwal, chair of the financial management committee, told the NOW that number represents a ballpark figure including all the possible amenities the facility could incorporate (like an art gallery that staff did not recommend including).
Mayor Mike Hurley, responding to the pushback on the Metrotown site selection, said the Civic Square location isn't a done deal.
"We haven't completed our investigation," he told the NOW. "We don't know where city hall's going to be."
Council will vote whether to select the Metrotown library and Civic Square site for a new city hall at its meeting Monday, Sept. 11.
"We'll wait and see what comes forward, but I've got a different thought," the mayor hinted.
📢 SOUND OFF: What do you think of the plans to move Burnaby City Hall? Do you think Metrotown Library and Civic Square is the right spot? Share your thoughts — send us a letter.