Metro Vancouver gas prices are expected to plummet this week following a pair of increases.
Patrick De Haan, head of petroleum analysis at GasBuddy, told V.I.A. that gas prices will drop several cents this week and may continue on a downward trend in the weeks to come. 
While he couldn't comment on exactly how much gas prices are expected to drop, he told V.I.A. that drivers can expect to see prices decline anywhere from five to 15 cents starting on Wednesday, Oct. 4. 
The news comes following a dramatic spike at the pumps last week, which saw gas prices rising by nine cents to 214.9 cents per litre on Sept. 28. Less than a week before that, prices shot up from around 199.9 to 204.5 cents per litre on Sept. 22.
De Haan pointed to refinery issues south of the border in California as the source of Metro Vancouver's sky-high fuel costs. In addition to repairs following a rare tropical storm, many refineries undergo fall maintenance at this time of year. 
While he expected that prices wouldn't fall below the $2 per litre mark until mid-October, the analyst stressed that "all it takes is a little bit" of improvement at the refineries for prices to let up. 
Where to find Metro Vancouver gas prices
Most outlets across the Lower Mainland are selling gas for well above $2 per litre, but there are a couple of options that sneak in just below the sky-high price point.
While it might be inconvenient for most Metro Vancouverites, a Canco in Aldergrove is selling gas for 199.9 cents per litre on Tuesday afternoon. However, there is another Canco, located at 18398 Fraser Hwy in Surrey, that is selling it for the same price, according to Gasbuddy.com.
The Co-op in the City of Vancouver is also selling gas for 199.9 cents per litre. 
After those options, there are a couple of low-cost choices in Langley and Aldergrove, where a Super Save Gas and a Chevron are selling gas for 201.9 cents per litre. 

Photo via GasBuddy.com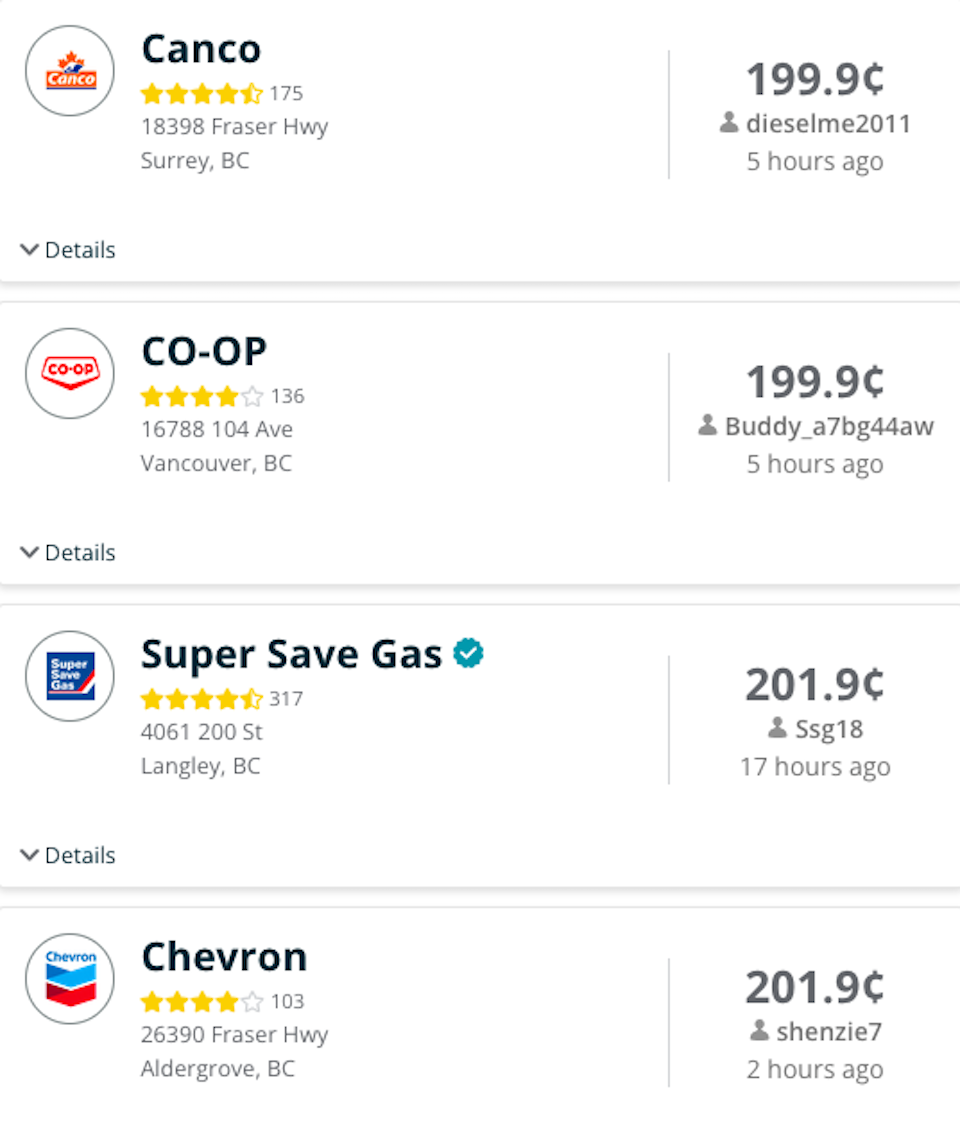 Photo via GasBuddy.com