We're getting a clearer picture of where this summer's wildfires rank on the scale of natural disasters in this country.
The Insurance Bureau of Canada has released an estimated that the fires in the Okanagan and Shuswap alone caused $720 million in insured damage. That makes it the tenth most costly disaster in recent Canadian history.
It's on par with a windstorm that lashed parts of Ontario in 2018, but well below the toll of the Fort McMurray wildfire, which tops the list at $4.3 billion.
"This year's wildfire season has broken all records in terms of the amount of land burned and damage caused to homes and businesses in BC," said Aaron Sutherland, vice president, Pacific and Western, Insurance Bureau of Canada (IBC).
"Our hearts go out to every individual and family who has been impacted by these wildfires, and to the firefighters who lost their lives helping to protect our communities. The wildfires' impact is another tragic reminder of the risk BC residents face due to climate change and the increasing frequency of natural catastrophes."
The combined insured losses from the McDougall Creek, Walroy Lake and Bush Creek East fires far exceed the Okanagan Mountain Park fire in Kelowna in 2003, which was pegged at $200 million in damages.
According to the Insurance Bureau, West Kelowna officials confirmed that 70 homes were affected by the wildfires, and 20 were lost in Westbank First Nation. In the areas of Traders Cove and Lake Okanagan Resort, an estimated 100 structures were completely destroyed. The Lake Okanagan Resort was also destroyed.
The Bush Creek East fire did extensive damage to properties in communities north of Shuswap Lake.
"More than 270 structures are confirmed to have been destroyed. In addition, the Bush Creek East wildfire caused extensive damage to public infrastructure, including damage to hydro poles that resulted in power outages for thousands of customers," said the IBC.
"Canada's insurers are here to help their customers rebuild following this devastating loss," added Sutherland. "Wildfire damage is covered by all standard home and business insurance policies, and anyone who has been affected by these events or has questions about their coverage should call their insurance representative. They are there to help and to support consumers with recovery and reconstruction efforts."
Anyone with general insurance questions can also contact IBC's Consumer Information Centre at 1-844-2ask-IBC.
The amount of insured damage is an estimate provided by CatIQ under licence to IBC.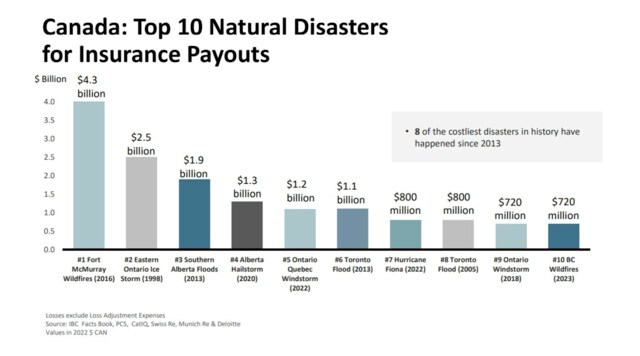 The Okanagan and Shuswap fires of 2023 rank as the tenth worst disaster in Canadian history for insured losses. | Insurance Bureau of Canada