Sea cadets and a rear admiral saluted, and the Royal Canadian Navy's Naden Band played as Seaspan Shipyards celebrated a ceremonial keel-laying Friday to mark a key milestone in construction of the second massive joint support ship at the shipyard in North Vancouver.
During the keel-laying, a coin is placed near the keel of the ship to bring good luck to the vessel.
When finished, the HMCS Preserver, the second joint support ship, and the first joint support ship, the HMCS Protecteur, will be the longest naval ships built in Canada.
Construction on the first joint support ship is expected to be finished in 2025, while the second ship has a completion date of 2027.
Seaspan CEO John McCarthy said the shipyard has become more efficient in building the second joint support ship.
"We have seen a nearly 40 per cent reduction in labour hours from the first ship to the second ship on the first 25 per cent of the blocks," he said. "That is just a phenomenal achievement."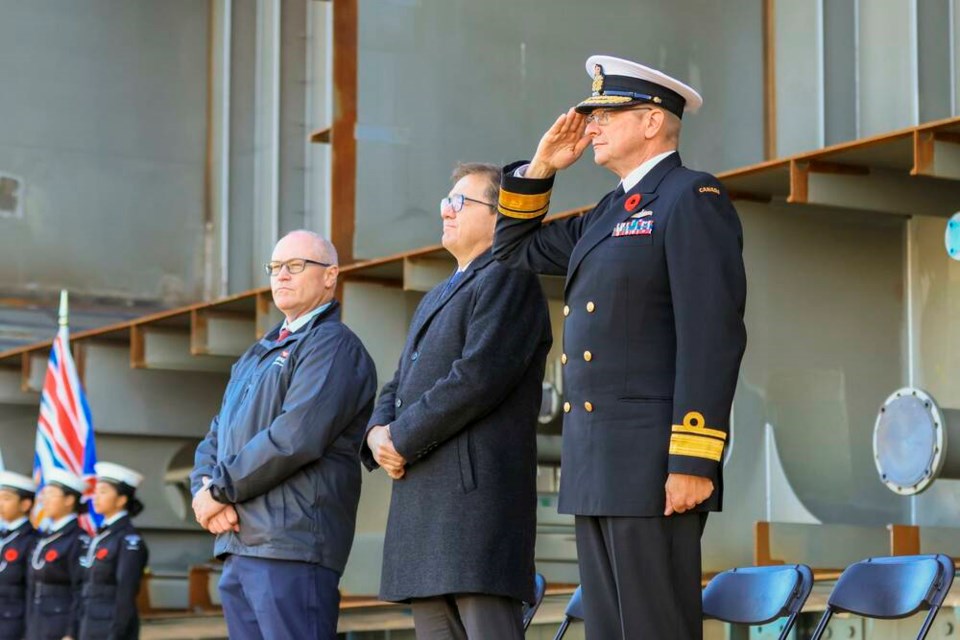 The Preserver joint support ship is the fifth vessel being built at Seaspan under Ottawa's national shipbuilding program. In 2020, Seaspan finished building the third and final offshore fisheries vessel for the Canadian Coast Guard.
Construction is also currently underway at the shipyard on the Coast Guard's offshore oceanographic vessel.
McCarthy said over the next 12 years, Seaspan shipbuilding and repairs are forecasted to contribute nearly $21 billion to Canada's gross domestic product.
There are currently about 2,900 people working at the North Vancouver Seaspan Shipyards as well as additional employees at Victoria Shipyards and at North Vancouver's Vancouver Drydock.
The shipyard has also begun design work on the next ship in the federal program, a polar icebreaker, along with a pilot program to test-run methods of forming very thick steel in a press and for welding that steel.
"The polar is a different ship," said McCarthy. "It's almost as big as [the joint support ships], but it's 5,000 tonnes heavier. So it's a massive heavy ship. It's got very thick steel, up to 60-millimetre steel."
In 2021, Seaspan celebrated 10 years of building under Ottawa's national shipbuilding program.
Joining Seaspan employees and executives on Friday were North Vancouver MP Jonathan Wilkinson and Rear-Admiral Steve Waddell, deputy commander of the Royal Canadian Navy.
Wilkinson said Seaspan is both "an integral part of both North Vancouver's maritime heritage and our present local economy."
McCarthy said Seaspan has also been speaking with B.C. Premier David Eby about the possibility of building more B.C. Ferries vessels in the future. The shipyard is much more modern than it was when B.C. Ferries opted to build its last vessels overseas, said McCarthy. "We are hoping we can make that happen."